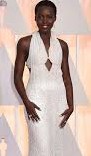 The bejeweled dress by Francisco Costa for Calvin Klein and worn by the actress Lupita Nyong'o on Sunday 22nd February for the 87th edition of the Oscars in Hollywood was stolen last Thursday in the actress' hotel room while she was out.
The LA police are still investigating to find the thieves even if the dress has been found in a trash bag once the latters found out that the pearls are fake. The dress is valued 150 000 dollars, much less than 6 000 cultured Akoya pearls.
The first cultured Akoya pearls were produced in the early twenties when the Japanese Mikimoto invented a transplant technique to set up a cultured pearl-farmed production. The process consists in the transplant of a mother of pearl nuclear cut in a Unio oyster from the Mississippi with a piece of epithelial membrane from a sacrificial oyster in the gonad of a Meleagrina Martensi oyster. It takes 3 to 5 years to get a pearl with a diameter ranging from 3 to 5mm with a 0.5 – 1 mm mother of pearl coat.
Being fake, the pearls on the dress didn't appeal to the thieves and the star of Twelve year a slave and South-paw, movie to be released in June, can admire again the couture work and enjoy the gown.